Why Dynamics 365 CRM is an Ideal Solution for Businesses of All Sizes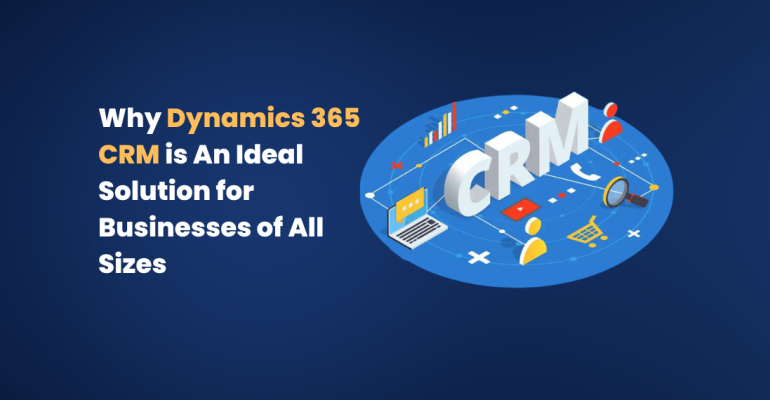 Why Dynamics 365 CRM is an Ideal Solution for Businesses of All Sizes
In today's highly competitive business environment, companies of all sizes need to be able to manage customer relationships to succeed effectively. Dynamics 365 CRM is for businesses of all sizes because it provides a comprehensive suite of tools and features to help businesses manage customer relationships and improve their overall performance.
By utilizing CRM and its intelligent analytics, teams can easily automate and optimize a range of tasks, improving overall efficiency. According to current estimates, the global CRM market is anticipated to reach a value of 49.6 billion U.S. dollars by 2025. 
Consequently, the market is saturated with numerous CRM alternatives. This raises the question: Why choose Dynamics 365 CRM? So, let's look at why Microsoft Dynamics 365 is different from other CRMs to see why it's the best choice.
Why Dynamics 365 CRM?
Dynamics 365 CRM is a cloud-based suite of integrated business applications designed to assist with managing, tracking, and storing information related to a business's existing and potential customers. By consolidating this information onto a single platform, Dynamics 365 enables business teams to access critical insights whenever required.
Given that customer service is at the forefront of most marketing strategies, there has been a surge in demand for CRM solutions. With its benefits and intelligent capabilities, Dynamics 365 CRM is a prominent player in the CRM market. 
Here are some of the reasons why Dynamics 365 CRM is an ideal solution for businesses of all sizes:
Scalability
Dynamics 365 CRM is designed to be highly scalable and customizable, allowing businesses of all sizes to tailor the solution to their specific needs. It provides a flexible platform for managing customer relationships, sales, marketing, and service processes. 
The solution offers a range of features and functionalities that can be configured and customized based on the business's requirements, making it a highly versatile solution suitable for businesses of all sizes. 
It is a flexible solution that can be deployed either in the cloud or on-premises, depending on the needs and preferences of your business. This flexibility makes it easier for businesses to choose the deployment model that best suits their needs and budget.
The cloud deployment option provides businesses with a highly scalable, cost-effective solution with minimal IT infrastructure and maintenance requirements. 
On the other hand, the on-premises deployment option offers businesses more control over their data, software, and hardware. It is ideal for businesses with complex IT infrastructures and strict compliance requirements. A business's unique needs and circumstances ultimately determine the choice between the deployment options. 
Read More: 5 Ways Dynamics 365 for Sales Empowers Your Sales Teams to Drive Success
Dynamics 365 CRM is an integrated solution that can be easily integrated with other Microsoft products, such as Office 365, Power BI, and PowerApps. Dynamics 365 CRM seamlessly integrates with D365 ERP solutions, such as Dynamics 365 Finance and Operations, to offer businesses a complete end-to-end business solution.
Also, it can integrate with various third-party applications like Mailchimp, HubSpot, Zapier, and more to extend its CRM functionality and support businesses in managing their customer relationships more effectively.
Furthermore, this integration makes it easier for businesses to use all the tools they need to manage their customer relationships effectively.
Dynamics 365 CRM provides advanced data analysis and reporting capabilities, which enable businesses to gain insights into their customer relationships and identify areas for improvement. 
With built-in reporting tools, businesses can create and customize reports that analyze customer data, track sales performance, monitor marketing campaigns, and measure customer service effectiveness. 
Dynamics 365 CRM integrates with Power BI, a powerful business intelligence tool, which provides businesses with even more advanced data analytics capabilities.
Furthermore, this analysis helps businesses to make data-driven decisions that can improve their performance and profitability.
Dynamics 365 CRM provides mobile access, enabling businesses to access their customer relationship management system from anywhere, anytime. This mobile access makes it easier for businesses to stay connected with their customers and manage their relationships effectively.
Additionally, it allows employees to be more productive by providing them with the tools they need to manage their customer relationships effectively, no matter where they are. The mobile access feature of Dynamics 365 CRM is especially valuable for businesses with employees working remotely or in the field. It enables them to stay connected and remain productive, regardless of location.
Dynamics 365 CRM Usage Across Company Operations
Dynamics 365 CRM can be used across various company operations to manage customer relationships, streamline business processes, and improve overall business performance. 
Here are some examples of how Dynamics 365 CRM can be used across different departments and operations:
Sales: Help sales teams manage their pipeline, track leads and opportunities, and analyze sales data. Sales reps can use the system to create and manage customer accounts, track customer interactions, and generate quotes and proposals. The system can also automate sales processes, such as lead scoring and assignment, making the sales process more efficient.
Marketing: It provides marketers with tools to create and execute marketing campaigns, track customer engagement, and analyze marketing performance. In addition, the system can manage customer segments, track customer behavior, and personalize marketing messages. Marketers can also use the system to manage social media campaigns and track social media engagement.
Customer Service: It enables customer service teams to manage customer service requests, track customer interactions, and provide timely and personalized support. Customer service teams can also use the system to manage service level agreements (SLAs) and monitor service performance.
Project Management: It provides tools that enable teams to manage projects, track progress, and collaborate with team members. The system can be used to create and manage project tasks, track project milestones, and monitor project budgets. Project managers can also use this to assign resources, track resource utilization, and manage project risks.
Final Thoughts
As you embark on your digital transformation journey, having an effective CRM solution is crucial. It allows you to efficiently manage your customers and business opportunities while automating customer engagement operations. 
Therefore, Microsoft Dynamics 365 provides a flexible and user-friendly CRM solution that offers smart integrations, valuable insights, a unified platform, seamless automation, etc. These powerful functionalities enable businesses to improve customer satisfaction and transform team collaboration, making it one of the top CRM options available.
If you're considering implementing Dynamics 365 CRM for your business, reach out to us at info@localhost. We can help you increase business agility and adopt a data-driven approach to achieve your goals.