Services MS Power Platform
Microsoft Power Platform
Easily create automated workflows with Microsoft Power Platform and improve the productivity of your business process.
Set Up Automated Workflows
With the Microsoft Power Platform, you can create, alter, and expand all the apps you require. Maximize the potential of Office 365 and Dynamics 365.
Everyone in your company can quickly and easily create custom apps, automate workflows to increase business productivity, and analyze data for insights because Power BI, PowerApps, and Microsoft Flow are made to operate together.
You may analyze data with Power BI's real-time interactive dashboards to find the fresh insights that you need to propel business expansion. Build web applications for iOS and Android smartphones with Power Apps to save time and money. Use Power Automate to integrate robust workflow automation without writing any code into your applications and network with hundreds of other services and apps.

Self-service analytics at a large-scale business
Lower the additional costs, complexity, and security risks associated with employing numerous systems using an analytics platform that extends from individuals to the company.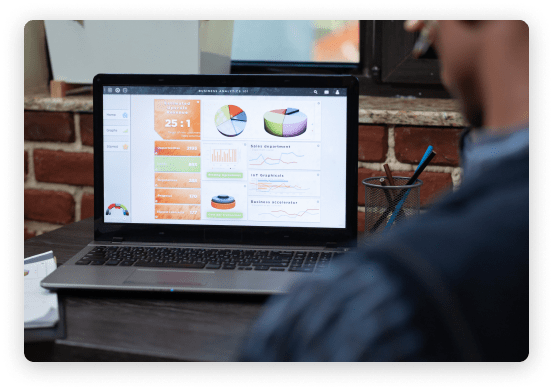 Clever tools for powerful outcomes
You can find and share smart information with hundreds of data visualizations,
integrated AI capabilities, tight Excel integration, and pre-built and custom data
interfaces.
Safeguarding your analytics data
Get cutting-edge sensitivity categorization and data loss prevention tools to support the protection and compliance of your data even when it is exported.

Start right away
Give your team the tools to start creating and publishing apps with drag-and-drop simplicity, pre-built templates, and quick deployment. Then, implement ongoing improvements as required.


Develop apps without comprises
Provide everyone access to cutting-edge capabilities, such as pre-built AI components, previously only available to professional developers, enabling them to construct the needed applications.
Allow developer extensibility
Provide experienced developers with the resources to extend an app's functionality with custom connectors to specialized or on-premises systems and Azure Functions.

Microsoft Flow is now Power Automate
A flexible automation platform that easily connects to thousands of services and apps. Everyone can automate manual business operations across all your on-premise and cloud apps and services, which helps you save time and effort.
Make automatic processes for your preferred apps.
Activate services to gather data, synchronize files, receive notifications, and more.
Spend less time teaching AI models to manage time-consuming tasks, including processing invoices, forms, binary classification, object identification, and text classification.
Use the Common Data Service's D365, Flow, and PowerApps data to build models and integrate AI into business processes.

Microsoft Power Virtual Agents
Make your own bots
Use a guided, no-code graphical interface to let domain experts build robust bots without the help of coders or data scientists.


Give bots the ability to do something
Use the open-source Microsoft Bot Framework to design conversational AI experiences that let bots handle mundane tasks on the user's behalf. Power Automate makes it simple to link bots to a wide variety of services and applications through a variety of pre-built connectors and custom processes.
The importance of measuring bot efficiency
Use an easy-to-read dashboard to access AI and data-driven insights to track and continuously improve bot performance.


How Adrem Technologies Help?
By working with Adrem Technologies, businesses can leverage the power of Microsoft Power Platform to improve efficiency, streamline processes, and gain valuable insights from data.