5 Ways Dynamics 365 for Sales Empowers Your Sales Teams to Drive Success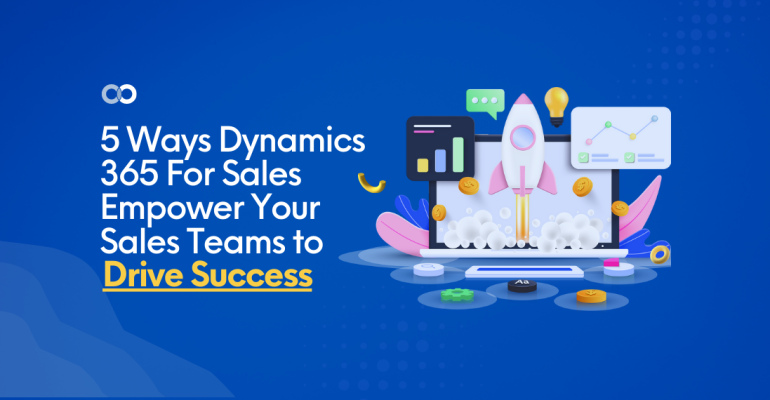 5 Ways Dynamics 365 for Sales Empowers Your Sales Teams to Drive Success
As businesses strive to stay competitive in today's fast-paced market, they need powerful tools to help their sales teams drive success. One such tool is Dynamics 365 for Sales, a comprehensive sales management solution that empowers sales teams to work more efficiently, close deals faster, and build stronger customer relationships. 
It is a cloud-based CRM solution combining sales automation, marketing, and customer service in one integrated platform. 
5 Ways Dynamics 365 for Sales Helps Your Business 
This great tool provides a range of features that can help your sales team succeed in their roles. For your help, we'll explore five ways Dynamics 365 for Sales can help your sales teams succeed.
1. Streamlined Sales Processes
Dynamics 365 for Sales provides sales teams with a streamlined, intuitive interface that simplifies complex sales processes. By automating tasks such as lead qualification, opportunity management, and pipeline forecasting, sales reps can save time and focus on what matters: building customer relationships and closing deals.
In addition to these automation features, Dynamics 365 for Sales provides real-time insights into every stage of the sales cycle, allowing sales teams to make informed decisions and take action quickly.
2. Intelligent Sales Analytics
It offers powerful analytics capabilities enabling sales teams to gain deep insights into customers' needs, preferences, and behaviors. With advanced analytics tools such as predictive lead scoring and AI-driven sales forecasting, sales teams can identify opportunities, prioritize their efforts, and make data-driven decisions that drive business growth.
By leveraging these advanced analytics capabilities, sales teams can gain a competitive advantage by better understanding their customers and making data-driven decisions that drive business growth.
Read More: ChatGPT: The Future of Software Development and IOT
3. Collaboration and Productivity
Dynamics 365 has strong productivity and collaboration tools that make it possible for sales teams to cooperate more successfully. Also, it helps sales teams stay on top of their work and collaborate more effectively by offering a common platform for communication, document sharing, and task management.
With integrated tools such as Microsoft Teams and SharePoint, sales teams can work seamlessly across devices and platforms, no matter where they are.
4. Personalized Customer Engagement
Helps sales teams build stronger customer relationships by providing a 360-degree view of each customer's history, preferences, and interactions. With this comprehensive customer insight, sales teams can deliver personalized experiences that meet customers' needs and expectations. 
From personalized marketing campaigns to customized sales pitches, it enables sales teams to engage with customers more meaningfully.
5. Mobile Sales Enablement
Provides sales teams with powerful mobile sales enablement capabilities that enable them to work on the go. With the Dynamics 365 mobile app, sales reps can access real-time customer data, collaborate with team members, and manage their sales pipeline from their mobile devices. 
Further, it provides a mobile application compatible with all major mobile operating systems, including iOS, Android, and Windows. This flexibility and mobility empower sales teams to stay productive and responsive no matter where they are.
Final Thoughts
Dynamics 365 for Sales is a powerful sales management solution to help sales teams succeed in today's fast-paced market. By leveraging the powerful analytics capabilities of Dynamics 365, sales teams can gain a competitive edge and drive success for their organizations.
With real-time data and insights at their fingertips, sales teams can make more informed decisions, improve their sales strategies, and ultimately achieve their goals. 
Contact Adrem Technologies if you're interested in streamlining and automating your sales activities, and let our professionals assist you in setting up Dynamics 365 for Sales.