Cloud Services
Cloud Services
Unlock unparalleled agility, scalability, and performance for your business with our transformative cloud services.

Cloud Hosting
Our cloud hosting solutions provide reliable, scalable, and secure infrastructure to meet your business needs.

Cloud Storage
Our cloud storage solutions provide a secure and scalable way to store your data. You can access your data anywhere, anytime, and on any device.

Cloud Backup
The backup solutions are designed to be scalable, reliable, and cost-effective, so you can rest assured that your data is safe.

Cloud Migration
Help you move your existing infrastructure to the cloud, ensuring a seamless transition. Our experts can help you identify the right cloud solution for your business and provide the support you need to ensure a successful migration.
Different Cloud Computing Platforms We Support
With Amazon Web Services, Microsoft Azure, and Google Cloud Platform, Adrem Technologies is skilled at offering specialized cloud computing services. Every organization may adapt to sophisticated cloud solutions with the help of our cloud services, which provide a dependable model.

Amazon Web Services (AWS)
We offer a range of Amazon Web Services (AWS) solutions to help businesses of all sizes achieve their cloud computing goals.

AWS Cloud Migration
We offer a range of engagement models that allow anyone to stay flexible across many parameters.

AWS Cloud Infrastructure Design
Our team of experts can help you design and build a scalable and secure cloud infrastructure that meets your business needs.

AWS Managed Services
We offer 24/7 support and management of your AWS environment, ensuring your applications and services are always up and running.

AWS Cost Optimization
We can help you optimize your AWS costs by identifying cost-saving opportunities and implementing strategies to reduce overall cloud spending.

AWS Security
We provide comprehensive security solutions for your AWS environment, including monitoring, threat detection, and data encryption.
Microsoft Azure
We work closely with our clients to understand their unique business needs and provide customized Microsoft Azure solutions that help them achieve their goals efficiently and effectively.
Our team of certified Azure experts can help you leverage the full potential of the cloud to transform your business and stay ahead of the competition.


Google Cloud Platform (GCP)
Adrem Technologies offers a range of GCP services to help businesses harness the power of the cloud and achieve their goals. Our team of certified GCP experts can help you design, deploy, and manage your cloud infrastructure while ensuring your applications' security and scalability.
Whether you're looking to migrate to the cloud or optimize your existing GCP environment, we can provide the expertise and support you need to succeed.
Why Choose Adrem Technologies for Cloud Computing Service?
With over a decade of experience providing IT services to customers worldwide, Adrem Technologies is a well-known brand in cloud computing and general IT services brand.
We are one of the fastest-growing cloud computing service providers, outfitted with the necessary talent and cutting-edge tools to help you find the best cloud options for your business.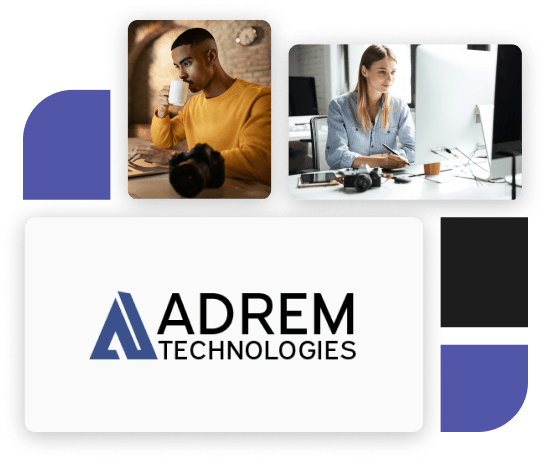 Expertise
Our team of cloud computing experts helps you design, deploy, and manage your cloud infrastructure.

Scalability
We have the ability to scale resources up or down according to your business needs.

Flexibility
We offer customized solutions tailored to meet your business's unique needs.

Security
We have robust security measures in place to protect your data and infrastructure

Service level agreement (SLA)
We offer an SLA that guarantees the uptime and availability of your applications and services.

Innovation
Offering innovative solutions to help your business stay ahead of the competition.