Benefits of Outsourcing Staffing Services for Your Business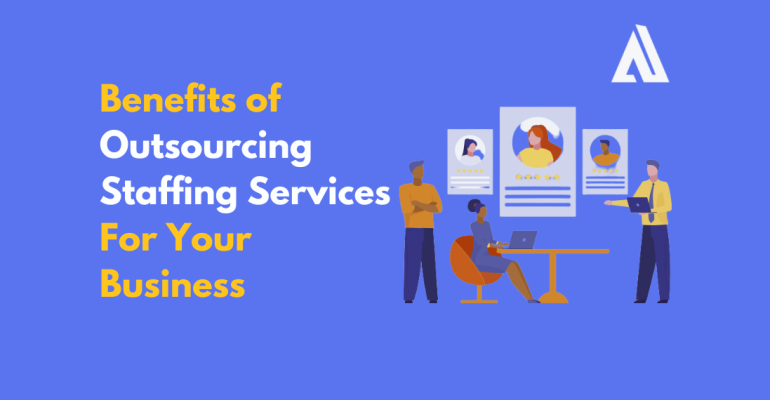 Benefits of Outsourcing Staffing Services for Your Business
In today's fast-paced and competitive business landscape, companies constantly seek ways to optimize their operations and stay ahead of the curve. One effective strategy that has gained significant popularity is outsourcing staffing services. 
Outsourcing staffing involves partnering with external agencies or firms to handle various aspects of workforce management. Outsourcing staffing services enable companies to manage their business operations while reducing unnecessary expenses effectively. So, don't delve into staffing misconceptions. 
So, do you want to know more about its benefits? Start reading this blog, exploring the key benefits of outsourcing staffing services to your business.
Top 10 Advantages of Outsourcing Staffing Services
The following are some advantages of outsourcing to a staffing company.
1. Access to Expertise
Outsourcing staffing provides the opportunity to tap into a vast talent pool of highly skilled professionals. Staffing agencies have extensive industry knowledge and experience identifying and attracting top talent across various fields and job roles.
These agencies have established networks, resources, and processes enabling them to source, screen, and evaluate candidates effectively. They are equipped with the expertise to identify individuals with the specific skills, qualifications, and experience required to meet your business needs.
By partnering with a staffing firm, you can leverage their deep understanding of the job market and access candidates who may not be actively seeking job opportunities but possess the desired skill sets. This expands your reach beyond traditional recruitment methods and increases the likelihood of finding the right talent for your organization.
2. Cost Savings
One of the most compelling advantages of outsourcing staffing services is the potential for cost savings. Outsourcing eliminates the need for internal HR and recruitment departments, which can be expensive to establish and maintain. 
Staffing agencies often operate on a fee-for-service model, allowing you to control and allocate resources more efficiently. Additionally, you can avoid expenses associated with recruitment advertising, background checks, onboarding, and training by relying on the expertise of the staffing agency.
3. Increased Flexibility
Businesses often experience fluctuations in their staffing requirements due to seasonal demands, project-based work, or growth spurts. Outsourcing staffing services offer the flexibility to scale up or down your workforce as needed quickly.
4. Time Savings
Hiring and managing employees can take time, diverting attention from core business activities. Outsourcing staffing services can save you valuable time by taking over various aspects of the recruitment process. 
Staffing agencies handle tasks such as candidate sourcing, screening, interviewing, and reference checks, ensuring that only the most qualified candidates are presented to you. This frees your internal team to focus on core business activities and strategic initiatives.
5. Reduced Employee Turnover
High staff turnover can significantly impact businesses, leading to disruptions in operations and incurring additional costs. However, outsourcing staffing services can mitigate this risk and create a more stable and engaged workforce.
Staffing agencies specialize in candidate evaluation and selection, employing robust processes to identify individuals who best fit specific job roles and organizational cultures. 
When staffing agencies thoroughly evaluate candidates, they consider their technical skills and assess their compatibility with your company's values, work environment, and team dynamics.
Read More: How to Choose the Right Staffing Outsourcing Provider For Your Business?
6. Mitigated Legal and Compliance Risks
Compliance with labor laws, regulations, and employment standards is critical to managing a workforce, but it can be complex and time-consuming for businesses to navigate. However, outsourcing staffing services can provide valuable support in mitigating legal and compliance risks associated with employment.
Staffing agencies specialize in understanding and staying up-to-date with labor laws, regulations, and employment standards. They have dedicated teams that monitor changes in legislation and ensure their processes align with legal requirements. By partnering with a reputable staffing agency, you can rely on their expertise and knowledge to navigate the intricacies of compliance.
7. Focus on Core Competencies
Outsourcing staffing functions enables your business to focus on its core competencies and strategic initiatives. By delegating non-core activities to staffing agencies, you can redirect your internal resources and expertise toward activities that directly contribute to your business's growth and success. This increased focus on core competencies can enhance productivity, innovation, and competitiveness.
8. Increased Productivity
Outsourcing staffing functions can lead to increased productivity within a business. When companies entrust staffing responsibilities to specialized agencies, they can reap several benefits that positively impact productivity.
By partnering with them, businesses can secure employees who are more likely to be a good match for the organization, reducing turnover rates and fostering a more stable and engaged workforce. A stable workforce enables smoother operations, better collaboration, and higher productivity.
9. Improved Quality and Efficiency
Outsourcing staffing functions can lead to improved quality and efficiency within a business. When companies entrust staffing responsibilities to specialized agencies, they can experience several benefits that directly impact the quality and efficiency of their operations.
Additionally, staffing agencies have streamlined processes and resources that can enhance the efficiency of the recruitment and onboarding processes.
10. Increased Agility
Outsourcing staffing functions increases the agility of a business by providing flexibility in workforce management, enabling rapid hiring, accessing specialized skills, responding quickly to market changes, reducing administrative burdens, accessing diverse talent, and facilitating rapid skill upgrading. These advantages empower businesses to navigate uncertainties, seize opportunities, and adapt swiftly, positioning them for success in today's dynamic business environment.
Final Thoughts
Outsourcing staffing services offers numerous benefits that can significantly impact the success and growth of your business. By leveraging these advantages, you can position your business for sustained growth, improved productivity, and a competitive edge in today's dynamic marketplace.
By partnering with or choosing a reputable staffing agency, you gain access to an extensive network of qualified candidates, streamlining the hiring process and improving the quality of hires. This, in turn, enhances productivity, reduces employee turnover, and fosters a positive work environment.
You can also contact Adrem Technologies at info@localhost and get the best staffing services.