7 Ways a Custom Website Can Help Grow Your Business in 2023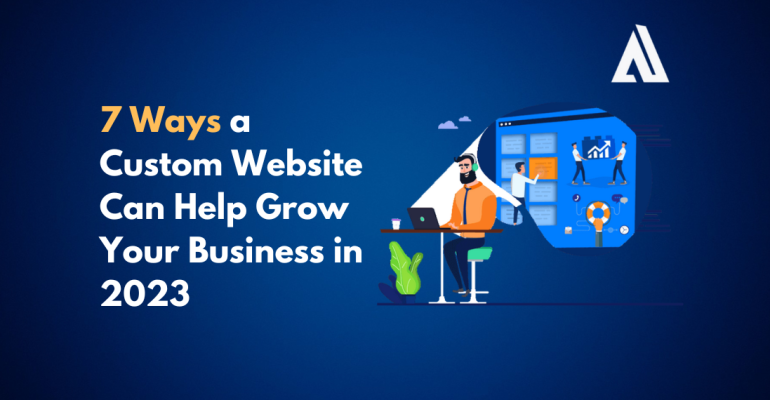 7 Ways a Custom Website Can Help Grow Your Business in 2023
A robust online presence is essential for any business that wants to thrive and expand in today's digital era. A custom website is one of the most important components of a strong online presence.
Your website is the digital representation of your company, so if it hasn't been updated recently, it might not be creating the best first impression.
It can help grow your business in numerous ways, so let's explore these ways to help grow your business in 2023.
What are the Benefits of Custom Website Development?
Here are some of the key benefits of custom website development:
1. Stand Out from the Competition
In a crowded online marketplace, it's important to differentiate yourself from the competition. A custom website allows you to do just that.
With a custom website, you can create a unique design and user experience that sets you apart from your competitors. This can help you attract and retain customers and increase brand recognition.
2. Improved User Experience
User experience (UX) is a critical factor in website design. A custom website allows you to create a user experience tailored to your target audience. This can increase user engagement, longer session durations, and higher conversion rates.
By providing a user-friendly interface, easy navigation, and a visually appealing design, your custom website can enhance the overall user experience and increase customer satisfaction.
3. Enhanced SEO
A custom website gives you the flexibility and control to implement SEO best practices specific to your business and target audience. This includes optimizing your website's content, meta tags, images, and URLs with relevant keywords and phrases your potential customers are searching for.
In addition, a custom website can also help you improve your website's page speed, mobile responsiveness, and user experience – all of which are important ranking factors for search engines. By ensuring that your website loads quickly and is easy to navigate on all devices, you can improve the user experience for your visitors, which can lead to longer session times and a lower bounce rate. Both indicators of a high-quality website search engines favor.
Moreover, a custom website allows you to develop a content strategy that aligns with your business objectives and audience preferences. This can involve crafting compelling blog articles, producing engaging videos, designing visually-appealing infographics, and other content formats that deliver value to your prospects and motivate them to interact with your website.
By consistently producing fresh, relevant, and optimized content, you can improve your website's authority and visibility in search engine results pages.
4. Better Branding
Your website is an extension of your brand. A custom website allows you to create a cohesive brand identity that aligns with your business goals and values.
Incorporating your brand colors, fonts, and messaging into your website design can reinforce your brand and build customer trust.
In addition, a custom website can also help you improve your customer engagement and retention rates. By incorporating interactive elements, such as chatbots, feedback forms, and personalized recommendations, you can provide a seamless user experience that keeps your customers coming back.
Read More: Why Is Responsive Design Important for Websites?
5. Increased Lead Generation
A custom website can provide numerous lead-generation opportunities tailored to your business needs. For example, you can create custom landing pages for specific products or services, each with its lead capture forms and calls to action. This allows you to segment your audience and tailor your messaging to their specific interests.
In addition, a custom website can also help you optimize your lead nurturing process by integrating with your email marketing and CRM systems. You can streamline your sales process and improve your conversion rates by automating your lead follow-up and tracking.
6. Establish Credibility
Having a professional-looking website with high-quality content can go a long way in establishing your business as a credible source of information and services/products. When visitors land on your website, they expect to find a visually appealing and informative website that reflects your brand's credibility and expertise.
A website with a professional design that is easy to navigate and has clear messaging can instill trust in visitors, making them more likely to engage with your business. In addition, providing valuable and informative content on your website can establish your business as a thought leader in your industry, further enhancing your credibility.
Building credibility through your website can attract more traffic, improve your search engine rankings, and ultimately increase your customer base.
7. Strengthen Customer Relationships
A custom website can help you build long-term relationships with your customers by providing them with valuable content, resources, and support.
By establishing yourself as a trusted authority in your industry, you can cultivate a community of loyal followers who will be more likely to refer your business to others.
Final Thoughts
A custom website can be a powerful tool for businesses looking to grow and succeed in 2023. The future of web development is investing in a custom website that can unlock a range of benefits that can help you achieve your business goals and take your business to the next level.
You may find a website expert on Adrem Technologies who can cater to your specific requirements, regardless of whether you intend to redevelop your website from the ground up or want to implement a few minor enhancements.
So, contact us at info@localhost and create a custom website that meets your requirements.